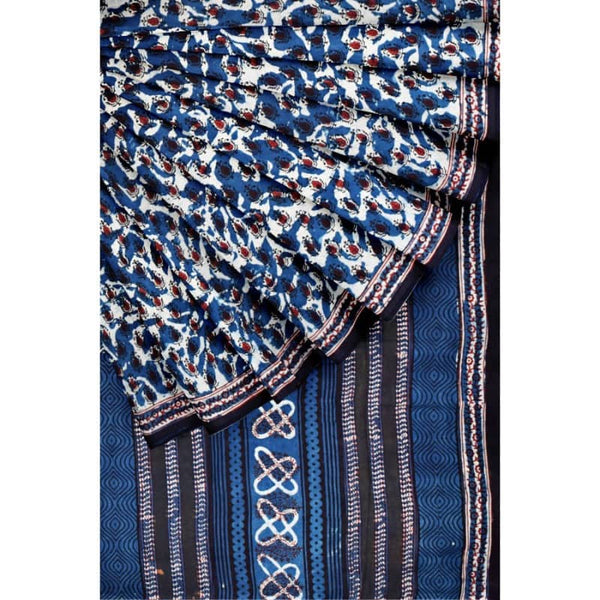 FREE
SHIPPING
ONLINE
SUPPORT 24/7
Celebrating the love of cottons, in new ways every day. We are so excited to add Jahota block print to our collection! Jahota, a type of block print from Jahota, Rajasthan - is a beautiful amalgamation between Dabu (a mud resist block) and general block prints. Meaning, it has an added step of block print over dabu as well, giving a new dimension to the craft! 
.
Using natural and chemical dyes, jahota focuses on floral along with dabu. Sometimes, these florals are a part of the entire design, sometimes these form an overprint to an underlaying design - basically, adding a new layer, a new dimension to what a print could be. Due to the complexity of the layers, it involves a range of added steps to the regular Dabu block print! You'll also notice, the layers of complexity are not just for the blocks, but also for the colours - the layers of red are overridden by layer of blue to give a dark blue/black shade!
.
The complexity of this print and the simpleness of cotton is what makes it so great!
Fabric: Cotton
Length: 6.5m with blouse piece
Wash Instructions: Hand wash in soft detergent like Ezee only.
Reference about stitched items
We offer custom stitching services for all of our products.
All stitched items take between 3-8 days for processing before dispatch. Please consider that time when you are placing an order. Stitched and Readymade items on the website are made to order depending on the size provided. It takes 3-8 days to be stitched.
All Measurements are that of the garment. If your chest size (body) is 38, please make sure you order size M40 or L42 depending on how loose you like to wear your garments.
| Women's Size | Chest(in.) | Waist(in.) | Hips(in.) |
| --- | --- | --- | --- |
| S | 38 | 32 | 42 |
| M | 40 | 34 | 44 |
| L | 42 | 36 | 46 |
| XL | 44 | 38 | 48 |
| XXL | 46 | 40 | 50 |
| 3XL | 48 | 42 | 52 |
| 4XL | 50 | 44 | 54 |
| 5XL | 52 | 46 | 56 |
What services do you use to ship my items?
Domestic: BlueDart, Delhivery or IndiaPost
International: EMS, DHL or Atlantic Couriers
In case you would like us to use another shipping service, please message/call us on 7694841878 post placing an order.

Can you ship my items via expedited shipping?
We understand that sometimes there is an urgency in receiving the items due to several reasons. Please contact us before placing an order so we can confirm that the items can be delivered by the desired delivery date. An additional shipping fees might be applicable.

How long does it take to get my items delivered?
Domestic: We ship the items within 1-2 working days. It takes about 4-5 business days to get the items delivered to different parts of India. During busy periods like the various festivals, it might take about 7-8 days. IndiaPost may take longer to deliver items in remote locations. Please contact us for further information.
Any stitched items take about 5-8 days for stitching.
International: Atlantic Couriers take about 4-10 days based on the delivery location. EMS takes about 8-15 days based on the delivery location.